"Running a business that helps people turn their home into a comfortable, enjoyable place to live is gratifying," says Dawson Urban, the Wife of Hire My Husband. "It is comments like 'WOW!' when someone walks into a reorganized master bedroom walk-in closet, or 'I couldn't have done this without you' from an elderly customer or busy family that really makes our efforts worthwhile. Besides, wouldn't you like to have your days off free to do other things?"

Knowledgeable, reliable, dependable service

Hire My Husband Quality Painting & Home Repair was established in 2002 by Dawson and her husband Andrew. A previous career in the hospitality industry provides the customer service experience and renovation background that makes Hire My Husband a success. As demand for their services increased, the team of "husbands & wives" has grown to provide the right skill set for the job required.

"We listen." Dawson says, "We come prepared with the proper materials and leave our work area clean. We are working in someone's home and treat it as our own. People put their trust in us to make the right repair. We make sure the house is livable during multi day projects." For Dawson exceptional customer service is vital. "We show up when we say we will. We inform you about the process of the repair requested. We also return your call whether we can help you or not. If we cannot help you, we try to point you towards someone who can."


No job is too small.
Whether it is painting a room or fixing a sagging gate, the "Husbands" tackle those small but important tasks on that "Honey Do List" with enthusiasm. "We take care of the small things. We've even just changed the light bulb in a garage door opener for an elderly couple because that was all they needed at the time. Neither of us thought they should get on a ladder to do that."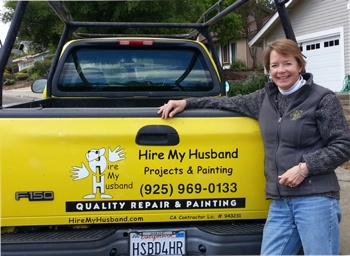 Clients of Hire My Husband include Realtors, Property Managers and Home Owners Associations, but their favorite customers are busy professionals, retired folks, families with busy parents and elderly couples.
"I guess we're doing something right," says Dawson, "We have been awarded the Angie's List Super Service Award four years in a row. More than half of our customers are repeat clients. That's the thing about Honey Do Lists – when you have someone you can count on and trust to complete the List, you call us back."