Quality Painting & Home Repair
925.969.0133 & 707.746.7958
Thank you so much for the great work. The bathroom looks wonderful. I'm looking forward to the rest of the house to look good again.


- Beverly N, Benicia
Excellent workmanship, communication, and customer service! Everything looked just as I was hoping for! Appreciated very much their flexibility when items, not on the original contract, were taken care of, not only installed but also purchased by Hire My Husband. All the work that has been done makes our home look so much better! I wish we've called Hire My Husband before, instead of waiting to be ready for a big remodel. Also, thank you for leaving the space nice and clean!


- Lilliana T, Pleasant Hill
Thank you very much for the great work. We really appreciate it!


- Richard F, Benicia
Unbelievable service! The young man showed up, well presented, and skilled to assist me in my home. Polite, and went over-board to make certain that the jobs were well done, and as I liked. We not only got a tremendous amount of work done, and in a short time, we had so much fun! I thank you, Hire My Husband for being on time, and getting the job well done. I will be calling you again!


- Pam S, Walnut Creek
Wow! Beautiful work, attention to details, friendly and clean. All of the "husbands" are very professional talented craftsmen. Hire My Husband is like night and day compared to other contractors I have dealt with! Big Thumbs ups!


- Patricia H, Benicia
I wanted to share the good news with you all. We sold our house … The house showed beautifully, thanks to everyone at Hire My Husband that had a hand in preparing our house for sale. The advice, guidance, expert craftsmanship, attention to details, the care that give to each and every project, was in my estimation what made the difference in how fast we old the house and the exceptional offer that we received. We are forever thankful and grateful for everyone at Hire My Husband, please extend our sincere thanks to everyone that came to the house and help us get it ready to sell. You are the only company that we will use in the future to work on projects in our new home.


- Sharron O, Walnut Creek
Thank you for your excellent work. I look forward to Spring sanding and scraping the deck and staining. Thanks to Mike and Brandon for a "job well done".


- Margot R, Concord
I can't say enough good things about this organization. Very personal service. They go out of their way to assist you in every way, never giving up until you're satisfied. So pleased after the first project, I contracted with them to do a few more. The crews have been professional and personable, and they have done excellent work. Hands down, the best company I have ever been associated with. I would wholeheartedly recommend them.


- Olen N, Benicia
Thanks again! Gerry and Johnny were both personable & did a really good job.


- Cathy S, Benicia
Thank you so much for the paining of the inside of my house! It looks wonderful. I'm very happy! Take care. Keep up the good work!


- Beverly N, Benicia
I am so VERY pleased with the way everything turned out! Thank you so much for your help; and for providing such great professional and competent talent! I'll be in touch again with additional projects I have been hiding from, now that I know I can depend on you and your team.


- Deborah F
Thank you for the great work you have done for me. It puts a big smile on my face to see my project completed.


- Judy R, Benicia
My husband & I are very appreciative of your efforts, good work and friendship to help us will all the jobs needed in our house recently. Thank you for doing such a fine job.


- Maria T M, Benicia
Larry & I want to thank all the "Husbands" for the beautiful job you did transforming our daughter's old bedroom into a welcoming guest suite.


- Regina, Benicia
There aren't enough words to thank you! You've taken a mess and helped turn it into a masterpiece. Your expertise allowed us to trust you and the results were astounding!


- Ray & Vicki, Vallejo
You provided a beautiful job, completed on time and has received many positive comments from friends & neighbors. I will highly recommend you.


- Ray Z, Pleasant Hill
Thanks again for the nice work in the garage. We love it!


- Carla, Benicia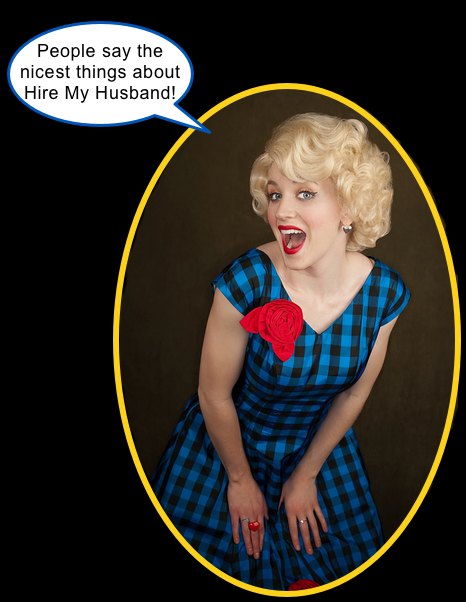 Read Lisl H.'s review of Hire My Husband on Yelp
This was the best experience for house repairs we have ever had. The efficiency, the expertise and especially the courtesy and care of the workers did not go unnoticed !!. Thank you again. We will call again!


- Jim & Chris B, Vallejo
Thanks so much for all your hard work in my house. I love my "new" bedroom.


- Cathy S., Benicia
Thank you for a wonderful job. You have made my "sanctuary" more beautiful and enjoyable.


- Carol T., Benicia
Thank you again for your help in correcting the previous painter's mistakes. The garden room looks great.


- Louren L., Vallejo
The young men who came to our rescue were terrific. We are very pleased. We will definitely be calling you again.


- Anne V., Benicia
Thank you for the excellent work, timely and prompt service.


- Steve E., Vallejo
Thank you so much for your help. Your guy was polite, professional and did a great job.


- Betty E., Vallejo
Thank you for such a great job, and for being so pleasant to work with.


- Mary M., Benicia
Thanks for another fine job.


- Tom L., Vallejo
Thank you for all the work on my family room. It was a pleasure to work with you and your crew.


- Karen C., Vallejo